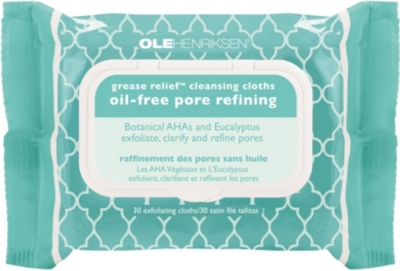 Pros:
Easy wipes to use if you don't have time to wash and cleanse your face properly i.e. you're drunk and tired and would rather spend your time spooning a hottie, or snoring under the duvet in your 60 eur facemask.
Cons:
Wetwipes can cause skin allergies, not suitable for everyday use because it doesn't clean deep down.
More:
Danish happy fella Ole Henriksen is also known as the Cream King, his products are usually very expensive but I thought these were reasonable compared to similar product on the market. As i often have problem skin with acne, I wanted wipes that were fresh–feeling and non comedogenic. The wipes have quite a strong pepperminty eucalyptus fragrance, and are a little harsh on the eye area. They have a lovely bumpy side that is slightly exfoliating, leaving my face refreshed and 90% clean. I would recommend to always use moisturiser after using this product as it can dry the skin, and – as you'll know by now – cause accumulation of talc and slight acne.
Tried this product yourself? Rate it below ("Rate this"). If you have any comments, feel free to add them as well ("Leave a reply").